AWIS-E
Association for the Wellbeing of Israel's Soldiers
English-Speaking Group
AWIS-E is comprised of enthusiastic volunteers, mostly immigrants from English-speaking countries, who aim to care for Israel's soldiers, and for more than twenty years part of the English-speaking group in "The Association for the Wellbeing of Israel's Soldiers (HaAguda LeMan HaChayal)".
Activities
AWIS-E assists chayalim bodedim (soldiers with no family in Israel), grants post-army scholarships for university study and raises funds to improve the quality of life on army bases, by furnishing clubhouses, providing equipment, debriefing rooms, refurbishment of existing structures, supply of TVs , heating units, and electrical appliances

AWIS-E also assists Mahal2000 overseas volunteers after arrival in Israel until discharge from the IDF and hosts 'Mahalniks' for Shabbat and Chaggim.

AWIS-E is also involved in 'hasbara' and regularly holds film evenings in the auditorium at Beit Goldmuntz Soldier's Home. "Relentless", produced by Honest Reporting, was screened in the autumn and the audience was addressed by the director, Brian Spector. The Oscar-winning documentary "The Long Way Home" was recently shown. This is an outstanding educational tool, which is now being loaned out to local schools for their Matric English classes.
Donations
AWIS-E is financed by donors wishing to commemorate a special occasion or to honour a loved one. So far over $1.2 million has been raised. Our volunteers bear their own expenses and 100% of the donations are directed to our projects. A reception is held on the selected IDF base, and donors are honoured with a dedication plaque that bears witness to the gratitude of the soldiers whose lives are enhanced.

Our major fundraising efforts are "120 Club" (an Annual Draw - donation $120 a ticket) and an "Annual Calendar" (sponsored by donors - donations ranging from $100 - $1,000).
Contact
Ruth Omsky

AWIS-E Clubhouse at transport base
using funds from the 2003/2004 "Calendar"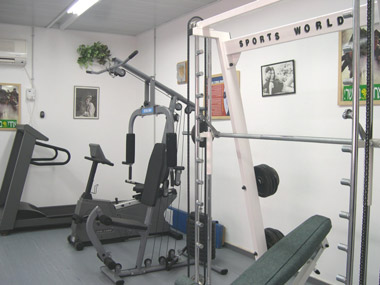 AWIS-E Gymnasium at Northern base
donated from "120 Club" funds