Machal1947-9 - Mahal - History
Mahal is the Hebrew acronym for "Overseas Volunteers".

In 1947-9, more than 4,400 overseas volunteers came from 56 different countries to defend and fight for the nascent State of Israel during its struggle for survival and independence. They were known as Machal. Most were World War II veterans whose military experience and skills were of decisive importance in helping to shape the newly emerging Israel Defense Forces.
Machal booklet (PDF, 2.5 MB) - here

More - here
Resolution of the 105th US Congress honoring the international corps of volunteers, known as Machal, who served Israel in its War of Independence (H. CON. RES. 268).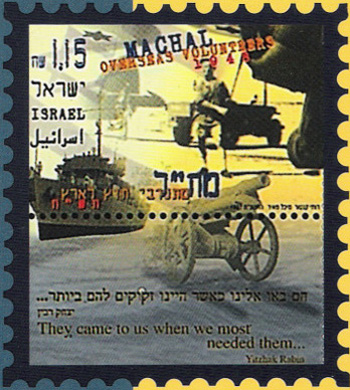 The Israeli MACHAL stamp symbolized the specialized activities of the fighting volunteers. Partial views of two Norseman airplanes can he seen at the sides of the stamp, with a soldier and a jeep hetween them. The lower part of the stamp depicts the cannon known as Napoleon-chick, and the navy ship Achi Hagana K 20, which was previously the illegal immigrant ship The Jewish State.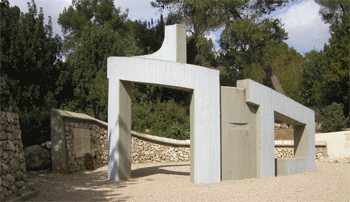 Machal Memorial near Sha'ar Hagai, Judean Hills - Smoky Simon's Speech on Yom Hazicharon 2008


On the Tel Aviv Jerusalem Highway (route number 1), turn off on the road number 38 to Beit Shemesh. You enter a long curving stretch, and the Machal Memorial is about 300 metres from where the curve ends (before Moshav Mesilat Zion!). A road sign on the right indicates the place of the Machal Memorial. At that point, you turn left into the Yitzhak Rabin Forest, and the parking area for the Machal Memorial is only about 50 metres from the turn-off point.
Mahal Street in Tel Aviv - Yafo - here

Letter of former IDF Chief of General Staff Lt.-Gen. Gaby Ashkenazi (son of a Machalnik from Bulgaria) to Chairman of World Machal Smoky Simon



Smoky Simon, today Chairman of World Machal - 1948 Chief of Air Operations
Today, Machal's tradition is continued by the overseas volunteers serving in its successor, the IDF Mahal volunteer programs.
More on the World Machal1948 website - Preserving the history and heritage, incorporating the Machal archives.
---
This website was launched by Daniel Katz in 2002 and got the "Jewish Agency Top Site 2005" award. Since 2008, the Mahal-IDF-Volunteers.org website operates independently from any organization and offers free help regarding all IDF overseas programs.
There are a few other organizations and individuals helping overseas volunteers for the IDF, like Garin Tzabar, Mahal Haredi, Bnei Akiva, a multitude of Yeshivot etc. None of these facilitates the entry to all IDF overseas programs.
Thousands of young people from more than 40 countries have already joined the exciting IDF paths for overseas residents where they served shoulder-to-shoulder with Israeli conscripts.

"The participation of ... men and women of other nations in our struggle cannot be measured only in terms of additional manpower, but as an expression of the solidarity of the Jewish people." (David Ben-Gurion)