IDF Background Information
Overview
The technology-driven Israel Defense Forces (IDF) of the twenty first century is a far cry from the volunteer soldier farmers during the fight for Jewish independence in the Land of Israel in the 1940s. In contrast to the modern day IDF - the developer of the world's first high-energy laser weapon system capable of shooting down a rocket carrying a live warhead, and the pioneer of what is considered the world's most secure tank, the founders of the IDF were so desperately short of resources that up until the 1950s, even senior commanders mostly earned no wage, were in their early twenties and lived by growing their own food.
What has typified the Israeli army throughout its diverse history is its commitment to innovation and its continuous maximization of the resources at its disposal, both human and technological. The Israeli army has always put great stress on the importance of improvisation and in order to defend Israel's narrow and vulnerable territory, the army has developed and attuned cutting edge technology to meet its defense needs. At the same time, it has a commitment to maintain a meritocracy and has proven its ability to assimilate hundreds of thousands of new immigrants and youth from poor development towns. Almost one quarter of its present officer corps are new immigrants and almost one half of its Chief-of-Staffs themselves came to the country as refugees. Both the officer corps and the soldiers represent almost every sector in society; religious and non-religious, the Kibbutzim, the development towns, the Druze of the North and the Bedouin of the South, assimilating Israeli citizens and Jewish volunteers from abroad uniting all walks of life and backgrounds.
The Israeli army can best be described by its contrasts. On the one hand, it is a modern army, founded in 1948. On the other hand, it traces its earliest traditions, roots and symbolism to the days of the Biblical ancient Israelites. On the one hand, it is considered one of the world's most professional, elite and effective fighting forces. Its air force, Special Forces, intelligence and engineering units have pioneered and executed novel and innovative campaigns that are studied by military tacticians all over the world. On the other hand, it is also one of the world's most informal and least hierarchical armies. Officers often sleep and eat with their soldiers and the army makes scant use of saluting and parades. On the one hand the Israeli army is considered to be a front-runner in conceptualizing and developing state-of -the-art weapons systems. Its technological and research departments have contributed enormously to providing cutting-edge technology whose use is far wider than state-of-the-art weapons systems. Such units have made world-class breakthroughs in ballistic missile technology, electro-optics and other fields. Soldiers from these units are highly sought after in the hi-tech world and have gone on to adapt their experience from these units to use in household PCs, internet portals, wireless communication and even in cancer research. On the other hand, the Israeli army plays an important educational function, providing special courses for under-educated recruits and making special allowances for soldiers from troubled homes.



The army as a social leveler
David Ben Gurion, Israel's first Prime Minister and Defense Minister, used to say the IDF is not only a means of defending the country, but also a means of integrating and building Israeli society. In Israel, the army contributes a valuable and dynamic social function alongside its military and security role, including a commitment to education and social values. Society is involved to an unparalleled extent in the military. In a country that has housed millions of Jewish immigrants and refugees from all over the world, one cannot overemphasize the role the army has played as a social leveler. People from all social, economic and political backgrounds perform military service side by side, with the same conditions and rights.

A religious soldier praying Shaharit
Going through the demands and rigors of army life on a totally egalitarian basis forges a common identity that totally transcends social and economic groupings. With a handful of exceptions, every senior officer has worked up through the ranks. Israel does not produce officers through academies, rather commanders rise through the ranks solely on the basis of their leadership and command capabilities. This system allows youth to grow and maximize their potential. At the same time, bonds of friendship are forged during basic training or active duty and are maintained through reserve duty and provide important social cohesion.
The army educational corps is heavily involved in schools teaching history and geography as well as various other educational programs. Children are prepared for the challenges they will have to face and also are given as much information as possible to be able to choose the path that are most suitable for them once they are actually conscripted.



A womb for economic growth
Although the army consumes a large percentage of total government spending, it continues to serve as a womb for growth in the Israeli economy. Exporting technology is a pillar of the Israeli economy and engineers who received their formative training in the army's technical units man almost every research and development department in Israel.



Who serves in the army?
Israel is unique in that military service is compulsory for both males and females. It is the only country in the world that maintains obligatory military service for women. This continues the tradition of female fighters during Israel's War of Independence. Males serve for three years and females for just less than two years. Israel also has one of the highest recruitment rates in the world - some 80% of those who receive summons serve. Those who are exempt from service include most minority groups, those who are not physically or psychologically fit, married women or women with children, religious males who are studying in an accredited Jewish Law institution and religious females who choose to pursue 'national service' - community work.

80% of those who receive summons serve
In many respects, one can dub military service in Israel a more physically rigorous social and educational rite of passage, akin to college or university elsewhere in the world. Young recruits often meet citizens they would never normally come across, are exposed to different parts of the country they may never otherwise have seen and many emerge from military service with leadership, planning, teamwork and analytical tools that provide the basis for building a profession later in life. Many others actually acquire a career, be it programming, engineering or teaching. Every recruit goes through a basic training program where they are taught the basics of army discipline, shooting, first aid, information on chemical and biological warfare and physical fitness.



Reserve Forces
Israel's small population means the country has never had the security of a large standing army despite the immense security and terrorist risks it faces. For that reason, released soldiers continue serving as reservists into their early 50s, contributing up to over a month's worth of service each year, both training and active service. The army reserves constitute the backbone of the army's manpower needs. It is not rare in Israel for two generations to be serving simultaneously in the army - the son obligatory service and the father in reserves.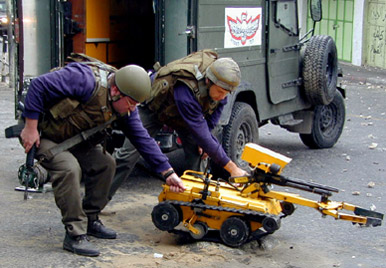 Reservists make up the backbone of the army's manpower needs
The system of reserves frees up the vast majority of its soldiers to take an active part in society and the economy. At the same time, the army is able to mobilize hundreds of thousands of reserves within hours and the full strength of the army within 48 hours. The system of reserves means that the army has officers and soldiers with considerable life experience and managerial expertise. Reserve units carry out many operations, such as Operation Defensive Shield, in the recent wave of Palestinian violence. The rationale is that reserve soldiers are more mature and can be expected to handle situations more diplomatically and calmly.



Women in the army
"The Army is the supreme symbol of duty, and as long as women are not equal to men in performing this duty, they have not yet obtained true equality. If the daughters of Israel are absent from the army, then the character of the Yishuv (Jewish community in Israel) will be distorted."
David Ben Gurion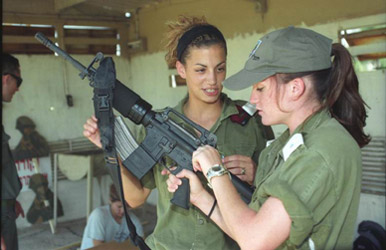 During the War of Independence in 1948, women were on full combat status and assumed important combat command positions. After the war, they were no longer allowed into combat positions. They continued as trainers and provided a valuable source of training manpower. From the late 1990s onwards, they are moving back into combat positions, including flight school. The first female fighter pilot graduated in 2001. Before women were re-absorbed into combat units, there used to be a womens' corps which provides professional support and backup that was created as a parallel administrative system to the command system. It was disbanded in 2001. In its place there is a female consultant to the chief of staff.



Guiding Principles of the IDF
The Israeli army has a strong ethical and moral code based on the laws and institutions of the State of Israel, the traditions of the Jewish people and democratic principles. The army guarantees basic rights for its soldiers and maintains a level of morality in the conduct of war and military operations. For example, during training, the army has a commitment to guarantee a minimum of six hours sleep a night for soldiers and seven hours before soldiers undertake a combat operation, grant regular breaks to soldiers, guaranteed meals with a minimum diet and to provide clothes and housing.

Soldiers also have certain obligations. The first is the concept of 'personal example.' Being in uniform means that the soldier is a representative of the army and State and therefore both soldiers and officers are expected to set a 'personal example' by obeying the law of the land, appearing in orderly dress and not causing any public disturbance. The military police have the right to caution and even arrest any soldier deemed behaving inappropriately. The concept of 'personal example also extends to the battlefield. An officer is always expected to lead from the front. The famous cry of the officer is "aharai", after me. The fact that senior officers take front line combat positions means Israel suffers, proportionately the highest officer to soldier casualty rate in the world. However, the IDF believes that leading by examples increases respect for the officer corps and instills greater motivation among soldiers. Soldiers are trained to take over command in a situation where an officer is killed or injured.

A second obligation is the concept of comradeship. A soldier is expected to risk his life for his fellow soldier by not deserting wounded on the battlefield. The army believes this is a vital principle to instill trust among soldiers and strengthen the sense of mission and team.

Thirdly, to avoid politicization of the army, soldiers must obtain prior permission before every public appearance. Soldiers are not allowed to accept personal gifts as a result of position, rank or status from anyone inside or outside Israel. In cases where soldiers or officers break these principles, be it in war or peacetime, military courts have the power to try and reprimand.

Fourthly, there is an important concept of professionalism. Every soldier is expected to train in a particular course, be it pilot training, snippering or cooking in order to acquire the necessary knowledge and skills to perform a meaningful task. Officers above the rank of Lieutenant Colonel have to have studied for a BA and in fact the majority of officers at that rank already have a Masters degree.



Ethical Standards
Israel has a principle that weapons and force can only be used for the purpose of a military operation and not to harm human beings who are non-combatants or who are prisoners of war. This involves avoiding at all costs damage to human life, dignity and property. Enemy troops and civilians in areas under the control of the IDF have to be treated with the letter and spirit of the law. Soldiers have to show respect for the beliefs, values and historical sites of all civilians and military personnel.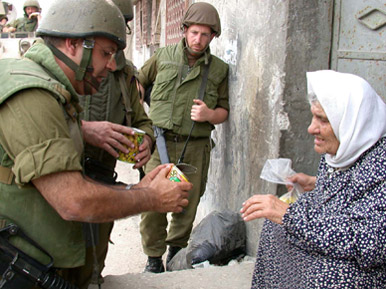 An Israeli soldier giving food to a Palestinian woman
In cases where soldiers have engaged in criminal activities, such as looting or using excessive force, as has happened in isolated and rare circumstances in clashes with Palestinians, they are tried and sentenced. If a commander is accused of violence he can be instantaneously removed from his command.
Challenges for the future
The IDF faces a number of major challenges. Both the threat to Israel and the nature of warfare and weapons systems is shifting. The Israeli security perimeter has extended outward, toward Iran and beyond. As a consequence, the IDF is expanding its planning over a large radius. This means, for example, that the importance given to the tank in Israel's defense concept is giving way to ballistic and radar systems and weapons research.

This is also coming at a time when Israel is making huge defense cuts as part of an attempt to reduce the size of its public sector. This is rendering a relatively large conscription army unaffordable for Israel in the 21st century. The IDF is meeting this challenge by strengthening its professional and research units. IDF technology units are also creating innovative schemes to minimize wastage and streamline running costs. One such scheme is the design of light to carry and nutritious individualized hot meals for combat soldiers that do not require heating. A mixture of chemicals generates enough heat to transform powder into a hot meal. Other work is strengthening the quality of combat boots so that soldiers will need to exchange them less.

Apart from the budgetary isssues, Israel has always faced terrorist incursions and attacks and the IDF has prepared to meet this challenge. For this reason, there is also great investment in helicopters, sophisticated artillery systems and surveillance systems. In recent years, the army has assumed many police functions and has had to adjust to the realities of sensitive operations in densely built civilian areas.