Mahal IDF Volunteers
Guide & Assistant

Guard of Honour of current Mahal volunteers at the Mahal Memorial on Yom Hazikaron 2011, together with Mahal 1947-49 volunteers Migdal Teperson, Smoky Simon, Joe Woolf and Ruth Stern.


Mahal-IDF-Volunteers.org is the leading guide for all would-be overseas enlistees (non-Israelis and Israelis) prior to joining the IDF (Israel Defense Forces). It is not an official website of the State of Israel but a voluntary initiative aiming to assist you - from retrieving reliable information to pre-checking your qualification and being your one-stop-assistant until your enlistment. All services are free and donations are not accepted.
This website got the "Jewish Agency Top Site 2005" award.
This website's usage statistics for 2011 is more than 500,000 visits and 13,000,000 hits, Google ranks on Aug 30, 2011:
IDF Mahal and the other IDF programs listed on this website are the administrative gates for the simplified enlistment of non-Israelis and overseas Israelis. Their actual IDF service is shoulder to shoulder with regular Israeli soldiers, even if the minimum service time is usually shorter than the regular IDF paths. Otherwise there are no major differences.
The programs aim to contribute to Israel's defense and to provide experienced and enthusiastic young leaders for Jewish communities. The following programs enable young Jews from all over the world to volunteer for the IDF.
IDF programs for non-Israelis:
IDF programs for overseas Israelis and their children:
Thousands of young people from more than 40 countries have already joined the IDF through its exciting programs for overseas volunteers.
---
What's New?
Reflections on IDF service as a college-educated oleh (Jerusalem Post article) - May 31, 2014

As of

August 2013

all drafts will be for a minimum service of

18 months

, with or without ulpan. The Mahal Hesder path remains 21 months.

All other pages of the website are not updated yet and will be updated soon. - May 26, 2013/Feb 28, 2014

An Israeli soldier's song to the world for Passover (YouTube videoclip) - Mar 1, 2014
The spirit of Mahal lives on (Jerusalem Post article) - Feb 28, 2014
An American soldier learns how to be Israeli (Jerusalem Post article) - July 24, 2013

Bill doubles soldiers's grants (Jerusalem Post

article

) - Jan 17, 2012

The IDF is assembling elite teams of computer hackers to lead the nation's cyber-warfare efforts.

(Jerusalem Post

article

) - Jan 13, 2012

Giving up Silicon Valley and giving back to Israel. article) - Jan 2, 2012
(Jerusalem Post
Dramatic increase of visits and hits in 2011. In the first half of 2011 Mahal-IDF-Volunteers.org already exceeded the numbers of the whole previous year! Mahal-IDF-Volunteers.org clearly continues to be the leading website in the field of overseas IDF volunteers (non-Israelis and Israelis), and to rank 1st on search machines. Usage statistics for 2011: more than 500,000 visits and 13,000,000 hits.Google ranks here. - Dec 23, 2011
Post-army grant for IDF combat soldiers to be increased to 20,000 NIS - Oct 9, 2011
Happy New Year 5772! Mahal-IDF-Volunteers.org wishes Shana Tova uMetuka, Shnat Shalom u Bitachon - for the IDF, MoD and the Security Services, Mahalniks on active duty, Mahal veterans, Am Israel and, last but not least, for Israel's allies and the friends of the Jewish people worldwide! - Sep 17, 2011
240 new immigrants report to IDF basic trainings (Jerusalem Post article) - Sep 6, 2011
From Tempe, Arizona to IDF checkpoints (Jerusalem Post article) - Jul 18, 2011
Cabinet okays memorial for 1.5m. Jewish WWII veterans (Jerusalem Post article) - Jul 17, 2011
American picks IDF service over elite US Army Rangers (Jerusalem Post article) - Jul 7, 2011
A salute to the IDF. You may think that you're simply defending your country, but in fact you are defending mine too - speech by the former Commander of British Forces in Afghanistan, Richard Kemp. (Jerusalem Post article) - June 15, 2011
Thousands of young Jews from across the globe arrive each to volunteer for army service, creating new families from scratch (Jerusalem Post article) - May 19, 2011
Almost 200 soldiers from 30 states finish basic army training, among them former NASA employee (Yediot Achronot article) - Nov 25, 2010
New developments grant Israel unprecedented military advantage over enemies (Yediot Achronot article) - Nov 25, 2010
This message is for all - present and future - volunteers who submitted their registration but failed to get our reply: Most likely, your registration arrived without email address or with an incorrect one or went astray or our reply landed in your spam folder. Please view your spam folder first or reregister here and you should get our reply within 3 workdays.
Why do so many Diaspora Jews want to join the IDF?, Haaretz - Apr 8, 2010
Serving in the Kfir Brigade, far from home (Jerusalem Post article, Sep 22, 2008)

Mahal-IDF-Volunteers.org continues lobbying for improved IDF rules aiming to increase the numbers of eligible overseas volunteers. The rules improved considerably and continue moving in the right direction. We will publish all changes here, as soon as there will be changes. Please check from time to time Mahal-IDF-Volunteers.org's homepage for updates - Apr 27, 2008
The IDF is beginning to reach out to motivated new olim and Diaspora Jews - JP, Aug 16, 2007
The IDF is planning to open one of its most secret and prestigious hi-tech courses -Talpiot- to overseas Jews - JP, Aug 6, 2007
IDF revamping 'Shlav Bet' to offer new olim better options (does not apply to non-Israelis) - JP, Aug 3, 2007
IDF appeals to Israeli expatriates to come to Israel to perform reserve duty in the West Bank - JP, Jul 24, 2007
1948 vets meet present-day volunteers
May 12, 2005. Veteran foreign volunteers who fought in the War of Independence held a stirring meeting Wednesday with present-day volunteers in the IDF.


Lone Soldiers
August 22, 2004. It's dangerous, difficult and sometimes brutal. So why would North American kids want to serve in the IDF? In this article, some of them explain why they're here.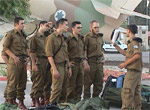 Induction
RAMAT GAN. Mahal volunteers experienced their first day in the IDF at the BAKUM induction base today, where they received their IDF uniforms and equipment.